No Cost and No Risk
No upfront cost
No staff education
RPM experts always ready
Scale as you want
Sign and ready-to-go
RPM Service with Orma's Tech
Patient Education and Outreach
Automated reminders
Configurable IVR
Programmable Escalation Process
Programmable Gift Card
Best-in-class Security
HIPAA compliant
HITRUST compliant
SOC2 compliant
PIC, ISO compliant
Secured connections with devices
7+
Addressible Chronic Conditions
Hypertension, Diabetes, CKD, CHF, and more.
< 5 min
Onboarding Time
Extremely easy to use for both patients and providers.
95+%
Patient Engagement Rate
Easy-to-use devices, no app installation, no hassle.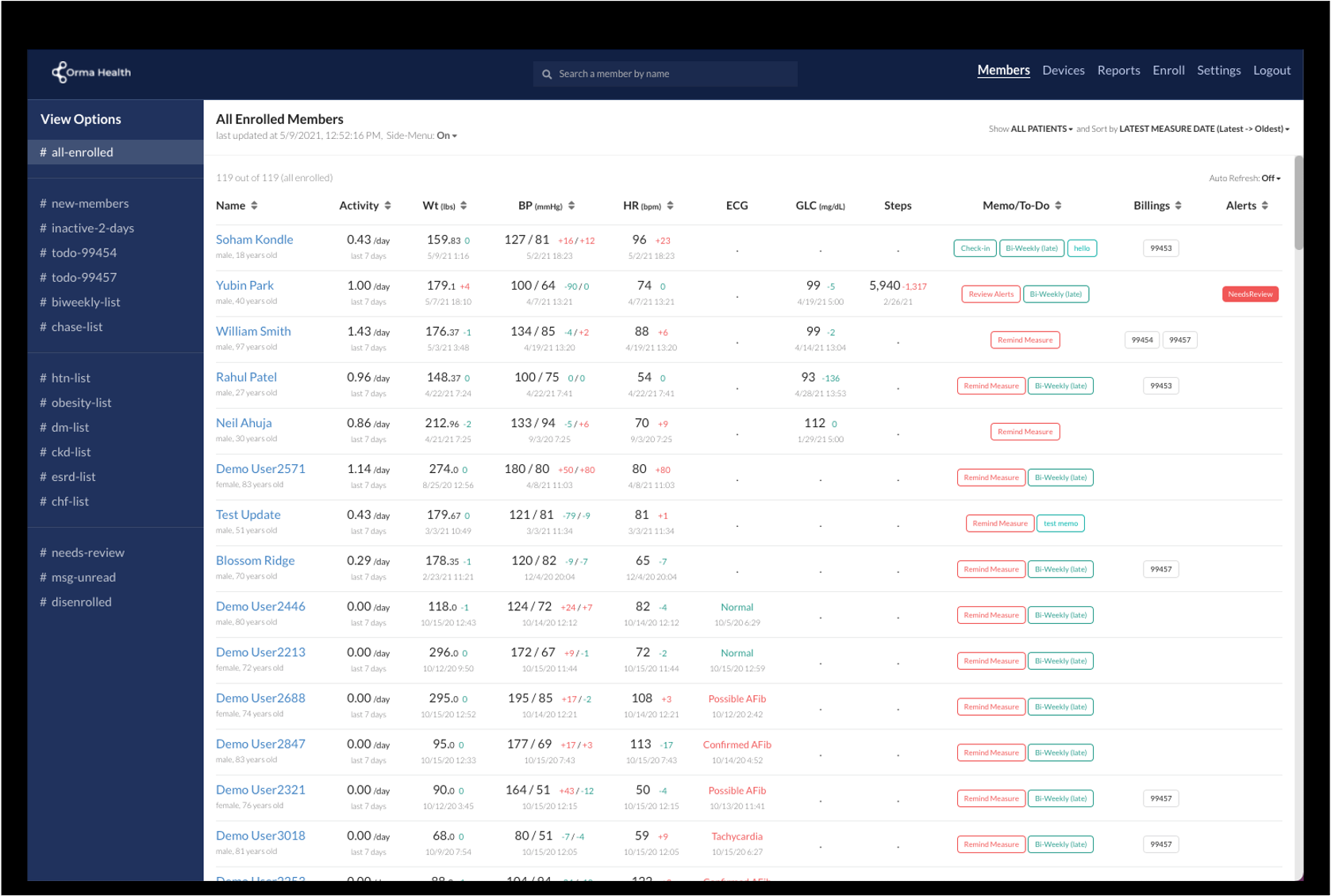 Amazing Full Service with
Powerful Technology
Our Remote Patient Monitoring experts consist of NPs, RNs and MAs in the US. Our team is overseeing thousands of patients for our clients. The team is experienced in patient communication, education, and engagement.
Connected Devices + Assessments

Weight Scale
for CHF, Obesity, Diabetes, etc.

BP Cuff
for HTN, CKD, CHF, etc.

Glucometer
for Diabetes, CKD, etc.

ECG
for AFib, CKD, etc.

Smart Watch
for Weight/Activity Management

Mobile Tests
for Depression, Pain, CAHPS, etc.
No Cost and No Risk for Starting Your RPM
No upfront cost
No staff education
No additional hiring
No resource required
Our RPM experts always ready
Scale as you want
Sign and ready-to-go
Best-class Care Team with Best-class Technology
Patient Education
Patient Outreach
Schedule automated reminders
Programmable IVR
Programmable Escalation Process
One-click gift card to patients
Automated/programmable Gift Card
Automated/programmable alerts
Security is our first priority
HIPAA compliant
HITRUST compliant
SOC2 compliant
PIC compliant
ISO compliant
Secured connections with devices
Highest-standard privacy measures
Regular security breach simulation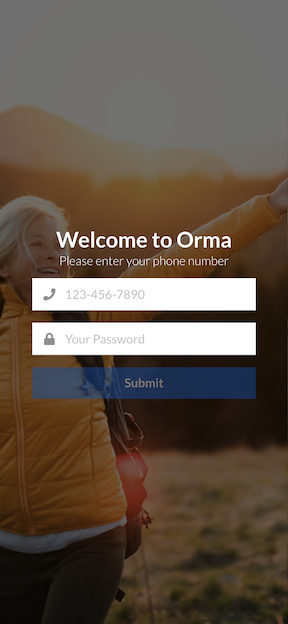 Have been using Orma's product for our patients.
I love the simple workflow, yet very powerful capabilities to engage patients.
Our patients like to use the devices, and I see their readings get better everyday.
G. Agustin, CEO of Iris Health Group
Our results speak for themselves
"What gets monitored gets improved"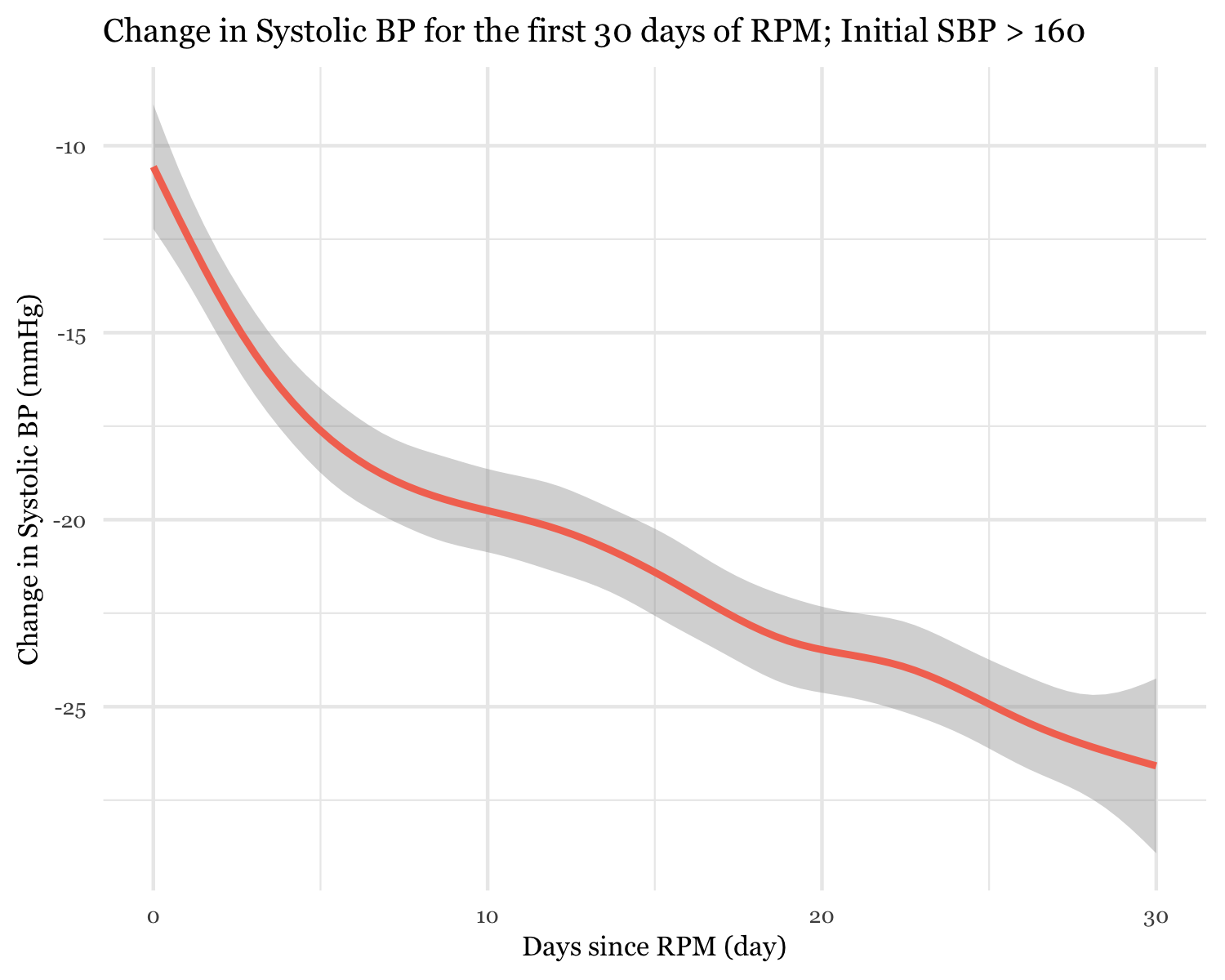 We tracked the blood pressure readings of the members who had over 160 mmHg systolic blood pressure over a month. We found that, on average, these patients could lower their blood pressure by 35 mmHg after the first 30 days of our Remote Patient Monitoring program.
NOTE: p-value < 2e-16
Pricing plans
Choose a suitable plan for you
Trial
Free
Perfect for starter
1 Weight Scale
1 BP machine
2 Enrolled Members
Access to Data Portal
Contact Us
Standard
Contact Us
Enjoy it without
limitations
No upfront cost
Monthly fees
Discount Program
Referral Program
Unlimited Patient Volume
Contact Us
Partner
Contact us
Use our platform as part of your solution
White-label
API access
Discount Program
Integration Support
24/7 Troubleshooting
Contact Us
FAQs:
Patients do not need to be on Medicare to use our products, but they may not be covered by the Remote Patient Monitoring procedure codes (CPT 99453, 454, 457, 458). To maximize the ROI of our platform, we recommend prioritizing Medicare patients first.m
As long as patients are under Medicare, patients do not need to pay for the devices or to get monitored. However, patients may be subject to copay if they do not have Medi-Gap insurance (supplemental plan), where more than 80% of Medicare patients have supplemental plans.
We use various tools to keep your patients engaged and entertained. Some examples include Automated SMS reminders, Programmable Gift Card for Keeping Adherence, Emoji-enabled text messaging, etc. Our patients are very well engaged even after 5, 6 months after their enrollments.